Are you self-conscious about your big forehead? Do you feel like you can't find a hairstyle that looks good on you? Well, don't worry – there are plenty of different hairstyles that can help minimize the appearance of a large forehead. From bangs to updos, there's a style for everyone. Keep reading to learn more about the best hairstyles for hiding a big forehead.
Out of ideas for hairstyles? Here are 5 that look great on women with big foreheads
The Long Bob: This look is versatile and great for covering up a bigger forehead. It works best with straight or wavy hair, so if your hair is naturally curly, you can either go for loose curls or straighten it. To get the perfect long bob, ensure the length won't hit higher than your eyebrows and that no bangs obstruct your face shape.
Side Ponytail: When you want to put your hair back but still keep some volume in front of your face, this one's for you! A side ponytail takes away any extremities on the sides of your forehead while framing it nicely. In addition, you can add a few braids for a unique, bohemian look if you have thick hair.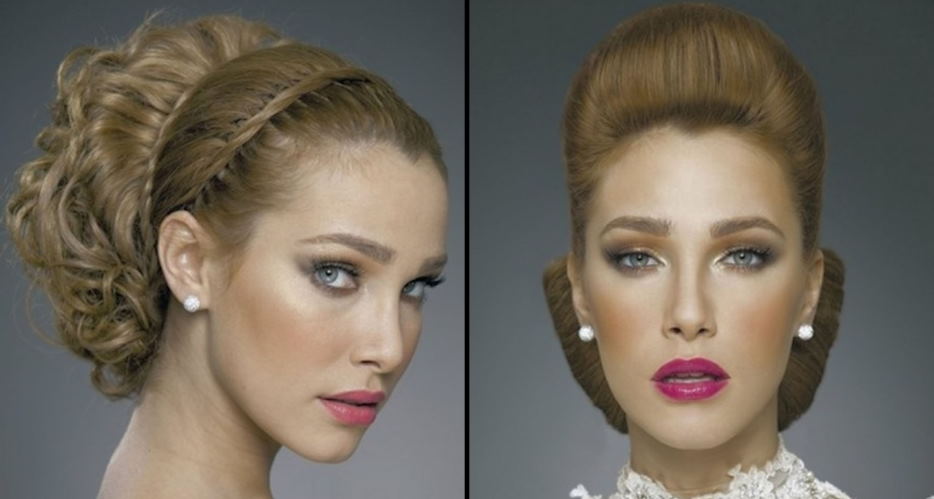 Half-Up Top Knot: This hairstyle works well to balance out the proportions of your face and is especially great if you want to keep your hair off your face but still have some volume at the crown area. To get this look, tie half of your hair into a top knot at the back of your head and leave the rest down.
Braided Crown: A braid on each side of your forehead creates an elegant look that frames the forehead perfectly. It's also a great way to make sure any shorter hairs stay in place while creating some texture around it. The key here is to choose braids that are not too tight, which could make the forehead look even bigger.
Curtain Bangs: This style is perfect for those who want to try out a fringe but are afraid of how it will look on their face shape. It works especially well with layered haircuts; all you need to do is create two sections at the front and then clip them back with some bobby pins or small clips. The result will be an effortless and stylish look!
The right hairstyle can make a world of difference when making your forehead appear less noticeable – remember to find one that suits your face shape and hair type best! Hopefully, these styles have inspired you to try one of them.
Styling tips for women with big foreheads
Invest in a Hat: Wearing a hat can easily hide your forehead while still looking stylish. Try out different hats, such as newsboy caps, fedoras or even beanies, depending on what look you're going for!
Wear Headbands: When you don't feel like wearing a hat, try to pull your hair back into a headband. Headbands are great because they come in so many different styles and colors that you can find one to match any outfit.
Go for a Pixie Cut: If you're feeling brave, why not try a pixie cut? Not only is it stylish, but it also helps to draw attention away from your forehead and can help create the illusion of a smaller forehead.
Add Some Volume: Adding some volume to your hair can help hide your forehead without resorting to bangs or hats. Try backcombing at the roots, teasing, and curling sections of your hair for added volume and texture.
Accessorize Your Hair: Accessories are another great way to draw attention away from your forehead while still looking stylish. Headbands, clips, and pins are all great ways to add a bit of personality to your hairstyle!
Try Out Different Hairstyles: Experimenting with different hairstyles is a great way to find out what works best for you and your face shape. From buns and ponytails to braids and twists, there's sure to be something that will flatter your forehead!
Embrace Your Natural Hair Texture: If all else fails, embrace your natural hair texture! Embracing who you are will help you look more confident and stylish, regardless of the size of your forehead.